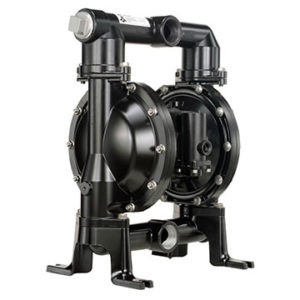 ARO 1-1/2" metallic diaphragm pumps achieve flow rates of up to 123.1 GPM (465.9 LPM) and offer a wide array of material and porting configurations. These pumps are often used for transfer, filling, recirculation and batching in Paint, Oil & Gas, Chemical and Petrochemical markets.
Benefits
The Ultimate in heavy duty pump design.
The new EXP is 20 – 40% more efficient than our competitors.
Efficiency – Simul-Shift™ valve provides ultra-positive, reliable shift signal
Reliability – ARO's patented 'Unbalanced' air valve ensures no-stall operation
Versatility – Broad range in materials of construction for optimum fluid compatibility
Environmentally Sound – Bolted construction for leak-free fluid handling
Serviceability – Easier service through modular design
Accessories
66084-1 Air Line Connection Kit: contains Piggyback Filter / Regulator, pipe nipple & 5' section of hose
67237 Diaphragm Failure Detection Kit
67350 Cycle Counter Kit
67174-15 Screened Inlet Adapter Kit
637389 Air Section Service Kit
637375-XX Fluid Section Service Kit
Pump Casing Materials
Aluminum
Cast Iron
Stainless Steel
Hastelloy-C
Diaphragm Materials
LongLife PTFE
Santoprene
Hytrel
Nitrile
Medical Grade Santoprene
PTFE w/ Santoprene backer
Viton
Specifications
Maximum Flow gpm (lpm): 123 (465)
Maximum Discharge Pressure psi (bar): 120 (8.3)
Fluid Ports Inlet/Outlet (bsp): 1-1/2 – 11-1/2 NPTF Rp1-1/2(1-1/2 -11 BSP) (Side or Center) 1-1/2 ANSI/DIN (SS only/Center)
Material of Construction: Aluminum, Cast Iron, Stainless Steel, Hastelloy®
Maximum Solids in (mm): 1/4 (6.4)
Maximum Dry Suction Lift ft (m): 14 (4.2)
Available with Long-life PTFE diaphragms.