SP
Grundfos SP submersible pumps are renowned for their high efficiency and reliability throughout the range. Made entirely of corrosion-resistant stainless steel, SP pumps are ideal for a wide variety of applications.
Grundfos SP pumps represent state-of-the-art hydraulic design. Built to deliver optimum efficiency during periods of high demand. The Grundfos SP range offers high efficiency, high resistance to sand and other abrasives, motor burnout protection, and easy maintenance. A complete monitoring and control system is available for constant optimization of the pumping system.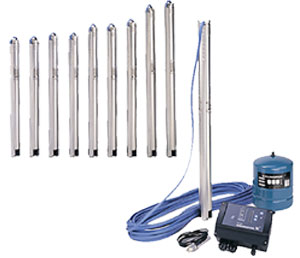 SQ
The Grundfos SQ 3″ submersible pumps offer a wide performance range, making it easy to find a model that will suit your individual requirements.
The SQ is a compact, 3″ multistage centrifugal pump that can be installed in a borehole no larger than the pump itself. With their built-in electronics, SQ pumps are very easy to install and operate. They guarantee a reliable water supply at all times. Equipped with permanent magnet motors, these flexible and compact pumps offer excellent efficiency levels and will supply pump heads up to 200 m.
If the SQ pump is connected to the Grundfos CU 301 control box, it enables the creation of a constant pressure water supply.