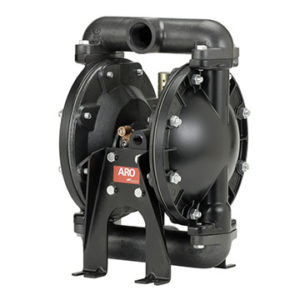 ARO® Pro Series air operated diaphragm pumps are ideal for general industrial and OEM installation
applications. They can easily pump from clean, light viscosity fluids to corrosive, abrasive medium viscosity fluids and can transfer large particles without damage. Due to their pneumatic motor, they may be used in potentially explosive areas. Most of the ARO® diaphragm pumps are ATEX certified (CE Ex11 2GD X).
Available Packages: Waste Oil Evacuation System Calcium Chloride Tire-Fill Package
Features
Mobility – Compact, rugged design allows for easy mobility
Efficiency – Motor design delivers optimum air efficiency
Reliability – ARO's patented 'Unbalanced' air valve ensures no-stall operation
Versatility – Available in aluminum, cast iron or stainless steel to withstand tough chemical applications
Environmentally Sound – Bolted construction for leak-free fluid handling
Serviceability – Easy access to ball checks and fluid caps for maintenance and repairs
Accessories
66073-2 Air Line Connection Kit: contains Piggyback Filter / Regulator, pipe nipple & 5′ section of hose
66100 Wall Mount
66975 Cycle Counter Kit
637118-C Air Section Service Kit
637119-XX-C Fluid Section Service Kit
Pump Casing Materials
Aluminum
Cast Iron
Stainless Steel
Diaphragm Materials
Viton
PTFE w/ Santoprene backer
Hytrel
Santoprene
Nitrile
Neoprene
E.P.R.